These Soba Noodle Broth Bowls are a delicious Panera Bread Copycat – you'd be surprised how easy they are to make at home with kale slaw and chicken!  Jump to Recipe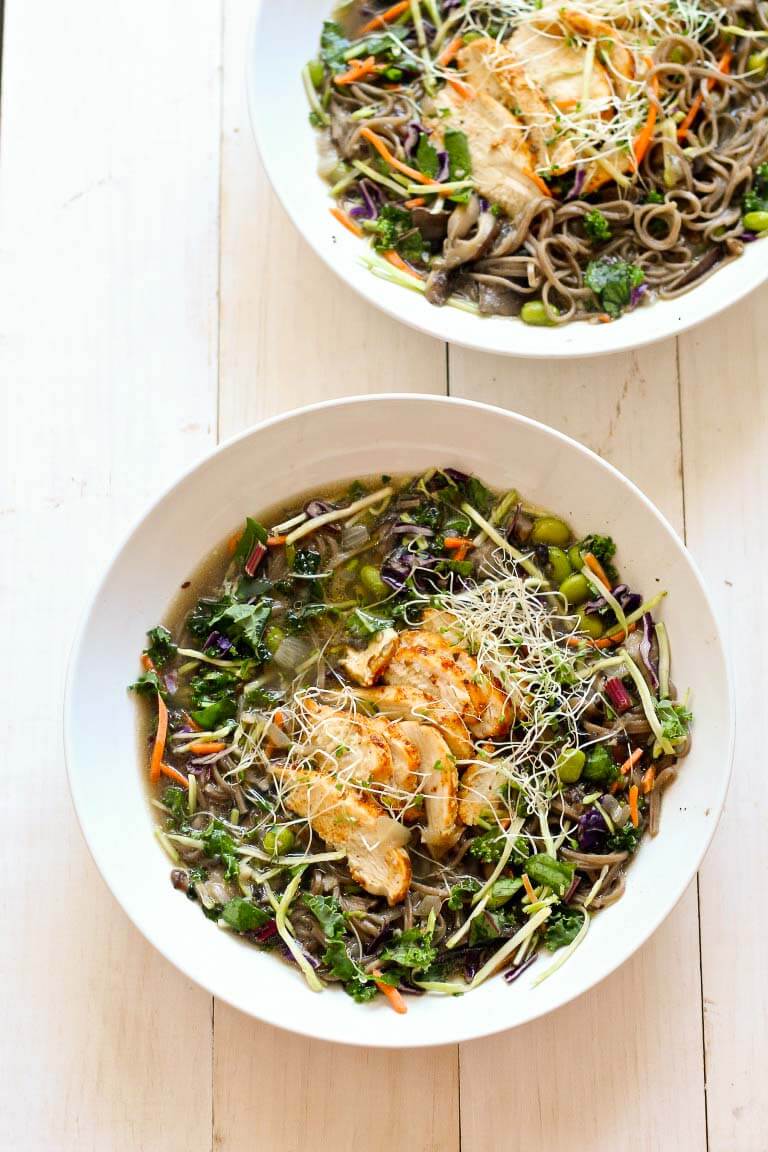 Ingredients in Panera Bread broth bowls
These broth bowls are just like the ones at Panera Bread, and they are SO easy to make at home! Here's what you need on hand:
soba noodles
chicken breasts
chili powder
shelled edamame
kale slaw or coleslaw mix
alfalfa sprouts
chicken broth
soy sauce
How to make Panera Bread broth bowls
As you can see from the ingredient list, you don't have to run to the store or spend a whole bunch of time making these bowls. In fact, they should come together in about 30 minutes or so! You can cook the noodles and prepare the veggies while the chicken is baking in the oven.
Here are the step-by-step instructions:
Slice chicken breasts in half lengthwise, then rub with olive oil and chili powder, and season with salt and pepper. Bake for 15 minutes or so.
While chicken is cooking, boil soba noodles until just cooked.
Divide noodles among 4 deep bowls, then add kale slaw and edamame.
Pour 1 cup hot chicken broth overtop and add a bit of soy sauce to each bowl.
Top your bowls with sliced cooked chicken and raw alfafa sprouts. Serve and enjoy!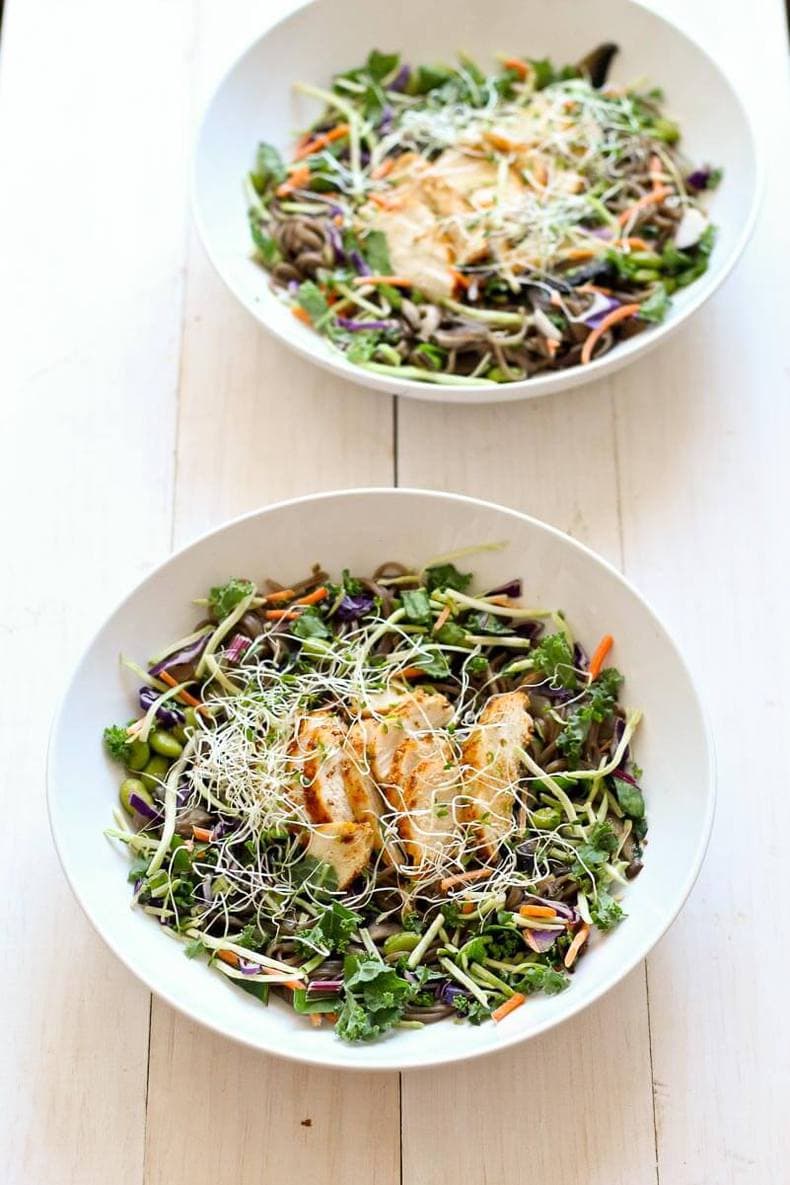 Ingredient substitutions
This recipe is fairly versatile, and you can make substitutions with the ingredients as need be. Here are some other ideas for customizing these broth bowls.
Chicken – You don't have to use chicken for these bowls! You can use tofu or lentils to make these bowls vegetarian, and cooked shrimp would make an amazing sub in. Really, any type of protein will work here.
Noodles – I love the nutty flavour soba noodles add to these bowls, but you can go ahead and use rice noodles. They will keep the dish gluten-free still, but the flavour will be a little more subtle.
Veggies – I used a store bought kale slaw mix for this recipe, along with alfalfa sprouts and frozen shelled edamame. You can also use regular coleslaw mix, or even defrost and add in frozen veggies. Because you're only using 1 cup of hot broth and relying on that to cook the veggies somewhat, you should use veggies that will heat up and slightly cook among the other hot ingredients, like greens.
Broth – You can use vegetable or beef broth to tweak the flavours – any type works!
Seasonings – I add a bit of soy sauce at the end to give this an Asian flavour, but you can also add in sriracha, lime juice, spices like chili powder or turmeric, or anything you think will give these bowls a little oomph.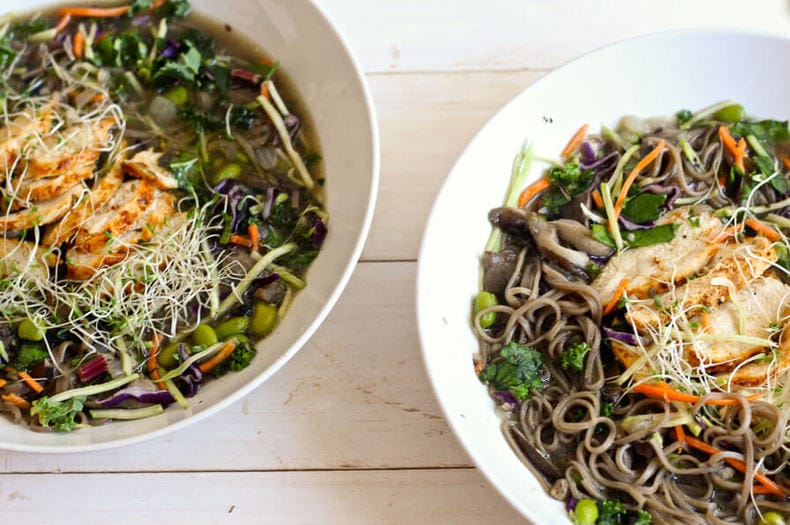 Storing and reheating
You can store the leftovers up to 5 days in the fridge, though I'd recommend you enjoy these bowls fresh. The noodles may soak up some extra liquid so be prepared to add more broth as you reheat in the microwave. You can microwave for 2-3 minutes to revive these bowls – the leftovers do taste great!
Unfortunately, there's no easy way to freeze this recipe unless you have cooked the chicken ahead of time and frozen it.
More easy soup recipes
Here are some more easy soup recipes to get you warmed up during the cold winter months!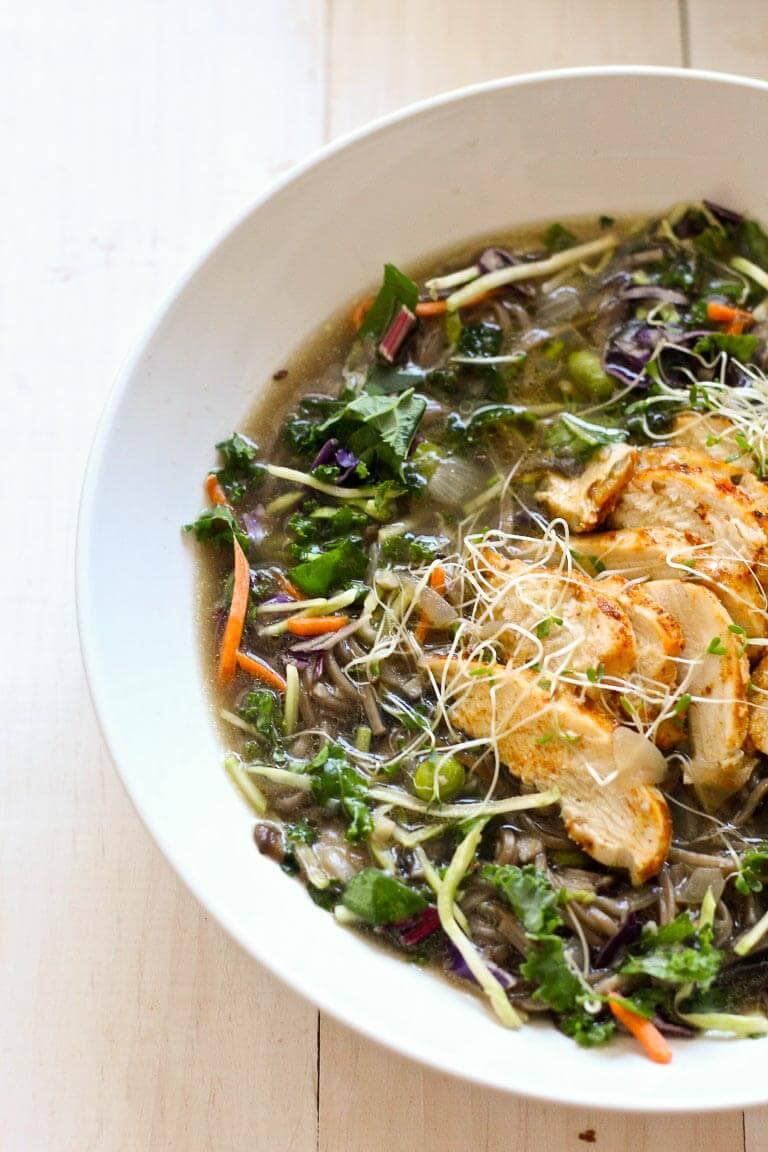 Tools for this recipe
Meal prep challenge
If you'd like some more help with meal planning, then you'll love my free 5-day meal prep challenge! Sign up for free below:
FREE MEAL PREP CHALLENGE!
Subscribe for my free 5-day meal prep challenge complete with printable PDF resources!
Your name:
Your email:
Soba Noodle Broth Bowls Panera Bread Copycat
These Soba Noodle Broth Bowls are a delicious Panera Bread Copycat – you'd be surprised how easy they are to make at home with kale slaw and chicken!
1 (300g) package soba noodles
2 chicken breasts
1 tbsp olive oil
1 tbsp chili powder
salt & pepper, to taste
1 cup shelled edamame
2 cups kale slaw mix
1 cup alfalfa sprouts
4 cups chicken broth
2 tbsp soy sauce
Preheat oven to 425 degrees. Slice chicken breasts in half lengthwise, then rub with olive oil and chili powder, seasoning with salt and pepper. Bake in oven for 15-20 min until chicken is fully cooked.

Meanwhile, cook soba noodles in boiling water on the stove for 5 minutes or until noodles are just cooked through. Drain and divide among 4 deep bowls. Add kale slaw and edamame, then pour 1 cup broth overtop and add 1/2 tbsp soy sauce to each bowl.

Top bowls with sliced cooked chicken and alfafa sprouts. Serve and enjoy!
The post Soba Noodle Broth Bowls: Panera Bread Copycat appeared first on The Girl on Bloor.