This shrimp laksa soup, made with macadamia nuts, curry paste, coconut milk, chicken broth, green beans, shrimp, and rice vermicelli, is our version of the popular southeast Asian soup.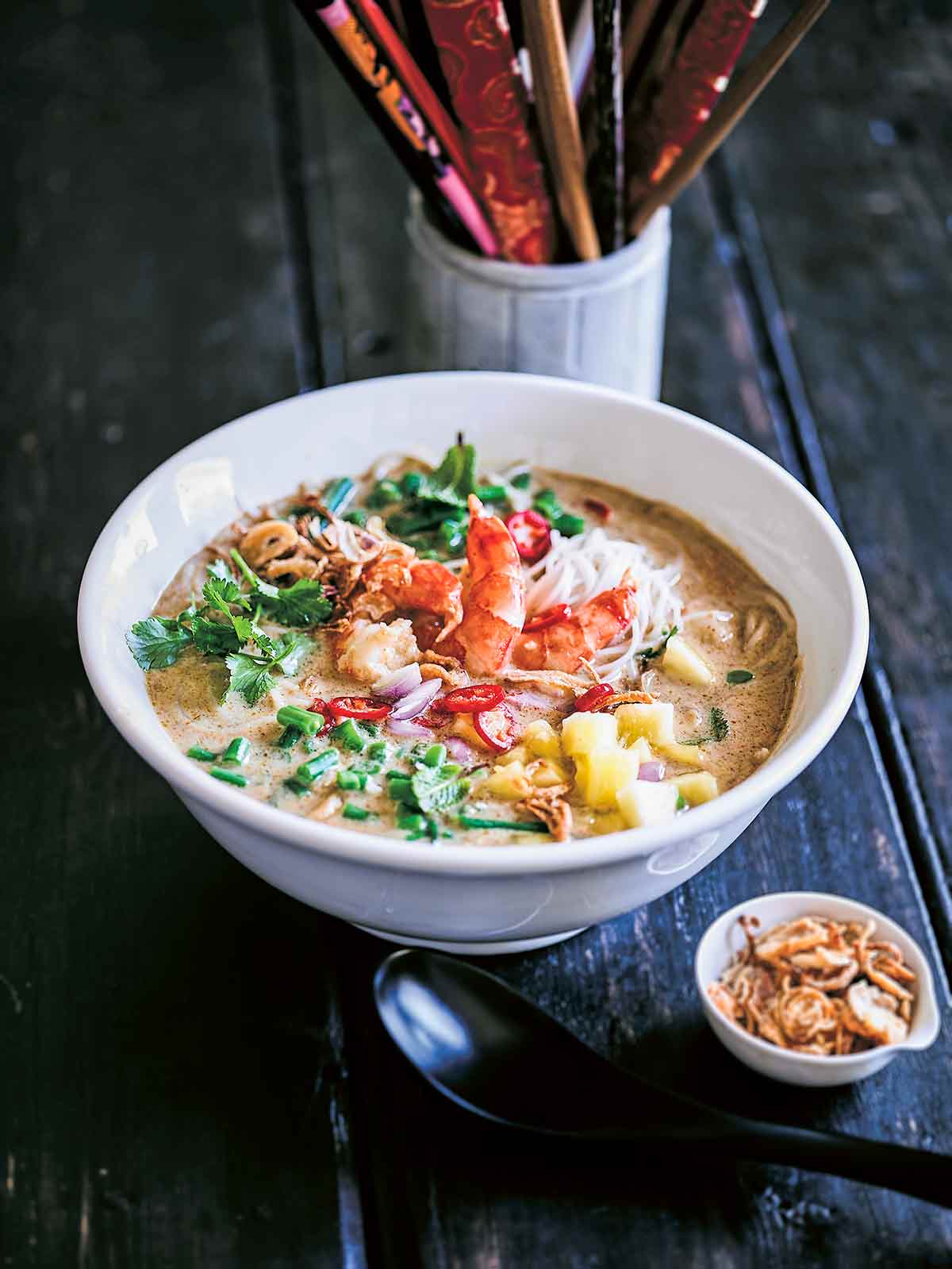 Adapted from Jennifer Joyce | My Asian Kitchen | Murdoch Books, 2019
This shrimp laksa soup is an easy, authentic version of the spicy Malay coconut milk and rice noodle soup that's a staple in southeast Asia. (Malay cuisine is a mashup, according to our sources, "of Chinese, Thai and Indian influences, which makestheir soups, curries and noodles dazzle with exotic spices, creamy coconut and hot chiles.") And our rendition comes together in less than an hour though it tastes like it's been simmering all day.–Angie Zoobkoff
Shrimp Laksa Soup
Quick Glance
45 M
1 H

Serves 2 to 4
Print Recipe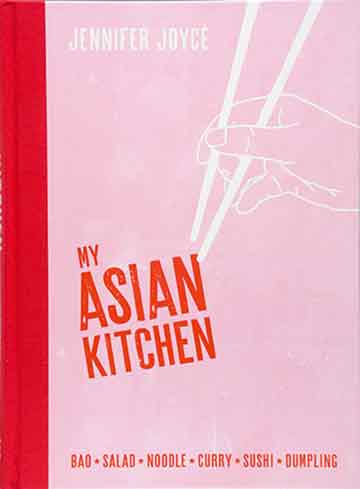 Want it? Click it.
Ingredients
Email Grocery List
Send Grocery List
Email the grocery list for this recipe to:
Sign me up for your or newsletter, too!
For the shrimp laksa soup

6 macadamia nuts (1/2 oz)

1 tablespoon vegetable oil

2 1/2 ounces red curry paste

homemade chicken stock" data-metric="250 ml canned chicken broth or homemade chicken stock"> 8 1/2 ounces canned chicken broth or homemade chicken stock

One (14-ounce) can full-fat coconut milk

2 whole star anise

2 cinnamon sticks

3 tablespoons tamarind purée, or less to taste

2 tablespoons palm sugar

2 tablespoons fish sauce

2 tablespoons lime juice, or less to taste

5 ounces green beans, chopped

7 ounces large raw shrimp, peeled and deveined

7 ounces thin rice noodles (vermicelli)

For serving

3 1/2 ounces pineapple, cut into 3/4-inch (2-cm) strips

Large handful chopped cilantro

Large handful chopped mint leaves

Store-bought or homemade pickled red chile peppers

homemade pickled shallots" data-metric=" Store-bought or homemade pickled shallots"> Store-bought or homemade pickled shallots
Crisp fried shallots" data-metric=" Crisp fried shallots"> Crisp fried shallots
Directions
Make the shrimp laksa soup

1. Using a mortar and pestle, crush the macadamia nuts to a fine paste.

2. In a large saucepan over medium-high heat, warm the vegetable oil. Add the curry paste and crushed nuts. Reduce the heat to medium and cook for 5 minutes.

3. Stir in the stock, coconut milk, spices, tamarind, palm sugar, fish sauce, and lime juice, going light on the tamarind and lime juice if you're not a tremendous fan of tartness. Bring to a simmer and cook for 10 minutes. the consistency will still be sorta soupy.

4. Use a slotted spoon to remove and discard the cinnamon sticks and star anise. Add the green beans and shrimp and simmer until the shrimp are just cooked through and the beans are crisp-tender, 2 to 3 minutes. Remove from the heat.

☞ TESTER TIP: If the shrimp are done before the green beans, use a slotted spoon to remove them from the sauce so they don't toughen.

5. Bring a small pot or tea kettle of water to a boil. Place the rice noodles in a large heatproof bowl and add enough boiling water to cover. Let sit until softened, at least 2 minutes.

Assemble and garnish the shrimp laksa soup

6. Drain the rice noodles and divvy them between 2 large bowls. Ladle the laksa over the top and garnish with the pineapple, cilantro, mint, and pickled red chile peppers and shallots. Serve with crisp fried shallots.
LEITE's LOVES...INSPIRED BY THIS RECIPE