Enjoy this light Zucchini noodle chicken pho soup on a cold day. It's low carb, soothing and loaded with delicious chicken pho soup flavor.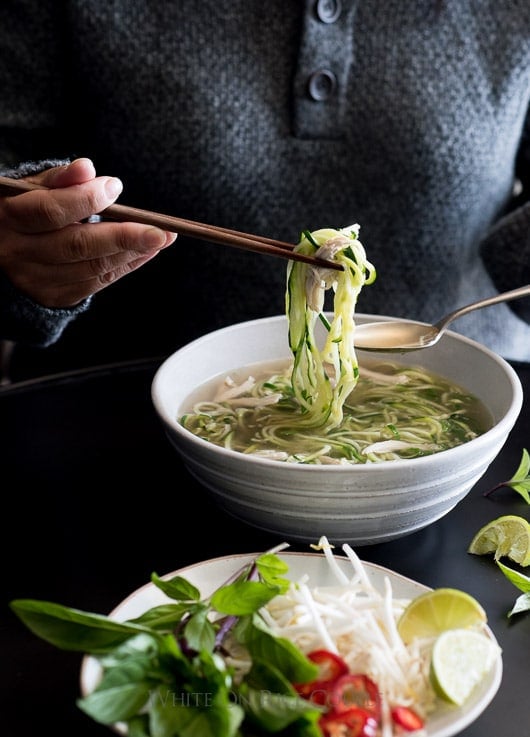 Vietnamese Chicken Pho Zucchini Noodle Soup
Vietnamese pho noodle soup runs in our kitchen like an overflowing spring river after a snow melt. Rarely do we ever go a whole week without pho and when my Mom is making her usual huge pot of simmering beef pho broth, we might have it twice a day. There's just something wonderfully healing, soothing and comforting in a bowl of pho. Each bowl is different. No two bowls are ever the same because everyone customizes their bowl with condiments and herbs to make it their own.
Zucchini Noodle Pho Soup with Roast Chicken
To change things up during our cold weather daily pho cravings, we have different variations of Pho including one made from roast chicken and zucchini noodles. Why? Because it's quick to make, light on the stomach and absolutely satisfying on a cold day. Think awesome chicken soup, Pho flavors, low-carb zucchini noodles and what you have is perfection in a steaming hot bowl. It's the ultimate zucchini noodle chicken pho soup to keep your belly warm and satisfies.
Video: Vietnamese Zucchini Noodle Chicken Pho Soup: 
The post Roast Chicken Pho Zucchini Noodle Soup appeared first on White On Rice Couple.