Creamy Peas and Pancetta look simple, but I assure you, theres ample flavor intertwined between those crisp, sweet peas and crispy pancetta. The peas are coated in a sweet and salty sherry-infused cream sauce and lots of caramelized shallots. Theyre the perfect way to make an easy side dish just a little bit more elevated than your average batch of buttered peas.
Creamy Peas and Pancetta
Heres the deal. I have a husband who is a meat and potatoes kind of guy. A three-year-old toddler who will only eat green vegetables unless bribed. And an almost two-year-old little guy who copies everything his big brother does. Finding a green vegetable we will all willingly eat without complaint or bribery is a challenge.
Until I introduced the combination of peas and pancetta.
The pancetta (bacon to them) entices all three boys to dish out a big serving of the crisp peas, but the sherry-laced cream sauce the peas are coated in seals the deal. The sweet caramelized shallots that basically melt in your mouth?? Those babies are for me.
Peas with pancetta isnt a new phenomenon, in fact, peas and bacon is probably the most common pea duo next to peas and carrots. However, I find theres something about pancetta that makes this side dish feel just a touch more elevated. Peas and pancetta would also be the perfect addition to your holiday table not only because theyre delicious, but they take about 15 minutes to throw together and dont require the oven, leaving ample room for stuffing and turkey.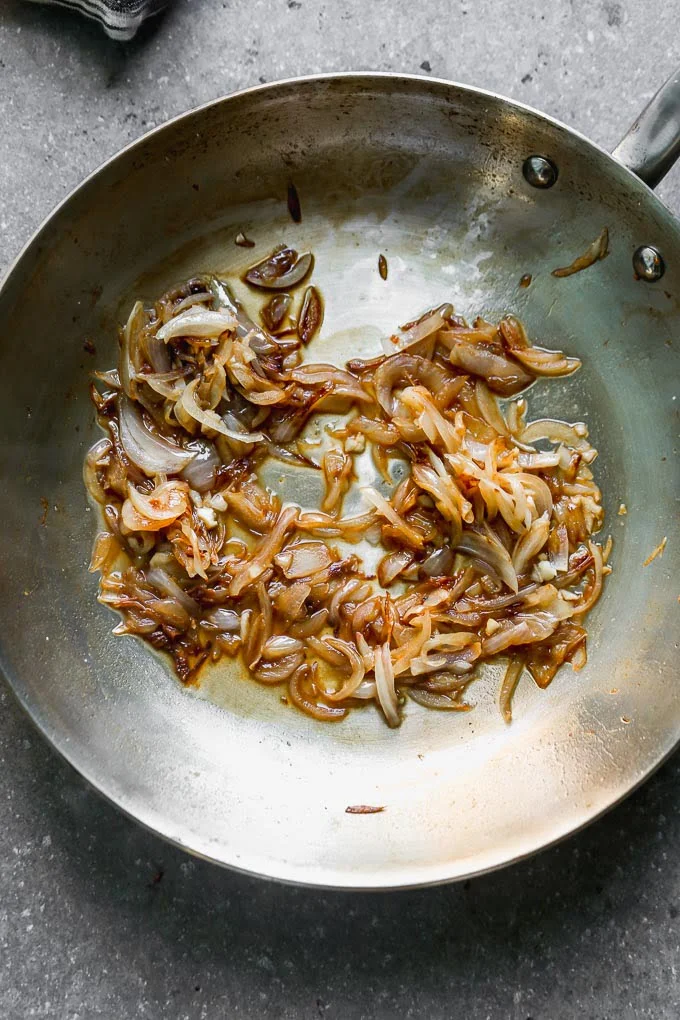 What is pancetta?
If youre not familiar with pancetta, let me acquaint you. Pancetta, the Italian form of bacon, is indeed similar to bacon. Like bacon, its cured, but instead of being smoked, its simply cured with salt and thats it. Some varieties add a little bit of extra salt and seasonings like black peppercorns, but otherwise, its left as is.
Pancetta is one of my favorite ways to add flavor to soups and pasta dishes likeRamen Carbonara. I even like to sneak it into more untraditional dishes like Thanksgiving stuffingand popovers basically it goes with everything.
Where can I buy pancetta?
I know you can buy pancetta sliced thin in a package, but for this recipe youre going to want to get it at the deli counter. Almost every grocery should have pancetta behind the deli case. Ask them to slice it 1/4-inch thick and then chop it into pieces when you get home.
Trader Joes pancetta is also great its already chopped into pieces for you. I usually find it next to all the salami and cheese.
Ingredients in Peas and Pancetta
Pancetta. As mentioned, pancetta is basically bacon. I love that it doesnt have a smoky element to it, but if you want to swap out bacon, go for it.
Shallots. Shallots have a more mild onion flavor than yellow onions, and I love the subtle, sweet onion flavor they add to the peas and pancetta. Caramelizing them develops their sugars even more and gives them a complex, flavor I adore.
Garlic. Just a little garlic goes a long way in creamy peas and pancetta, one large clove is all your need. I like to leave it minced, but if you dont like whole garlic pieces in your food, you can also grate it on a microplane.
Sherry. Im obsessed with dry sherry. I use it all my chicken pot pies, chicken noodle soups, and pretty much anywhere it makes sense. It adds this lovely nutty and sweet taste to dishes I cant get enough of.
You can find cooking sherry at the grocery store, but I actually prefer to buy a better quality dry sherry from the liquor store. Its still pretty inexpensive, and the quality is infinitely better.
Half and Half. These arent creamed peas by any means, but a little half and half adds an element of creaminess thats barely detectable in the end product. If you want to use heavy cream, go for it.
Salt. Seasoning is key. Season the shallots. Again when you add the peas. And finally season to taste in the end.
Sugar. For just a hint of sweetness. Adding a little bit of sugar brings out the sweetness in both the shallots and the sherry.
How to make Peas and Pancetta
Creamy Peas and Pancetta will be the easiest side dish you make this Thanksgiving. Well, aside from the dump-and-stir green bean casserole and frozen rolls youll inevitably have to use when your homemade Parker house rolls fail -or is that just me?? (If youre interested in the BEST from-scratch Green Bean Casserole, check out this recipe of ours.)
Heres how its done:
Cook the pancetta. Just like bacon, the key to crispy pancetta is to render out the fat slowly. Add the diced pancetta to a cold pan and heat over a medium flame. Stir frequently and cook until pancetta is brown and crisp. Drain on paper towels. Leave all the fat.
Caramelize the shallots. Add the shallots to the pan with all the rendered fat. Season with salt and pepper and sprinkle with sugar. Cook over a medium-low heat, stirring often. Cook until caramelized and a deep brown color, it should take about 8-10 or so minutes since its a small amount. Its ok if some of the shallots get a little crisp. Add garlic, cook for another 2-3 minutes until soft.
The rest of the ingredients. Add the sherry, cream, remaining salt, peas, and a little more sugar. Cook over a medium heat until the peas are heated through, about 2-3 minutes.
Finish it off. Add pancetta back to the peas and season to taste with salt and pepper.
How to cook fresh peas
Since were in the midst of cooler months and fresh peas arent readily available, this is the perfect frozen peas recipe. However, since this is kind of an evergreen recipe that would also be perfect in the spring or summertime, you could also use fresh peas as well.
If you are going to use fresh peas, bring a large pot of water to a rolling boil. Season with plenty of salt. Add the peas and cook for 5-6 minutes until theyre bright green. Take one out and taste. If they pop in your mouth and taste sweet, theyre done.
Can I make Peas and Pancetta in advance?
Yes, but they are best fresh. Prepare the recipe up to adding the pancetta back to the dish. Cool the peas. Store the crispy pancetta in a plastic baggie. Transfer the peas to an airtight container and cover. Store in the fridge for up to 24 hours.
To reheat: Add peas back to a small saucepan, add a tablespoon of half and half. Gently re-heat over a medium-low flame. Season again with salt and pepper. Add pancetta.
Substitutions and Tips and Tricks
If you dont have access to pancetta, change the dish up to peas and prosciutto instead. If you do go this route, use a few teaspoons of butter or olive oil to crisp up the prosciutto. Use the remaining oil or butter to caramelize the shallots. If theres none left, add two teaspoons extra to cook the shallots in.
If you see the shallots drying up a little bit, add a teaspoon more oil or butter. They key to caramelizing is cook low and slow and make sure theres enough fat to cook the shallots in.
You could also turn this into peas and pearl onions. I would recommend defrosting the onions prior.
Of course creamy peas and pancetta can always turn into creamy peas and bacon. Swap it out without any guilt.
If you cant find shallots, you can swap out yellow onions.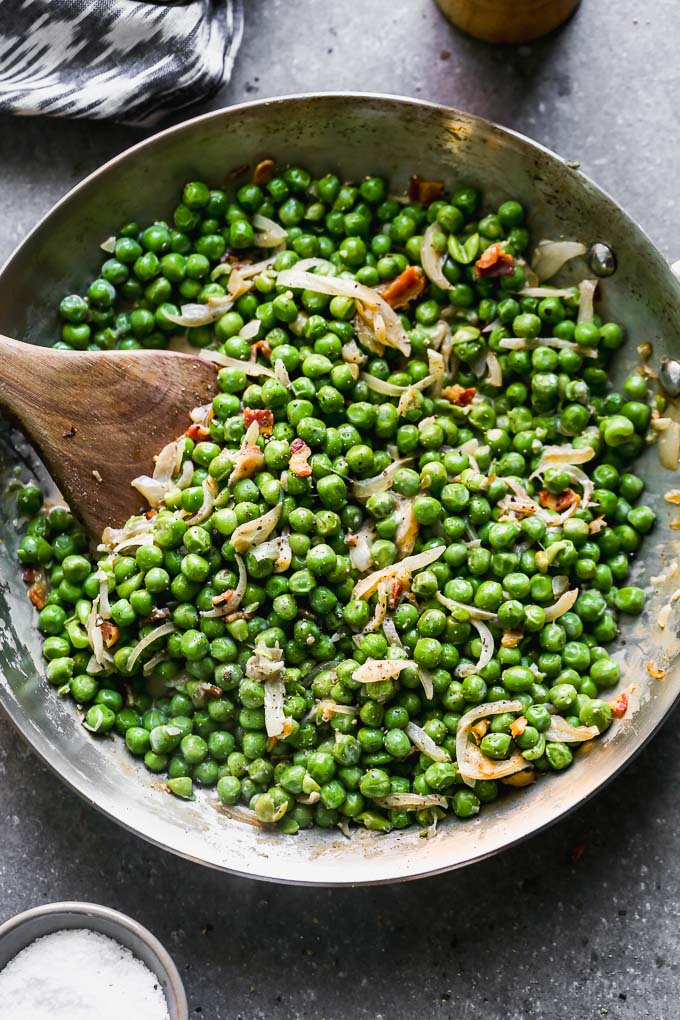 Creamy Peas and Pancetta
Creamy Peas and Pancettalook simple, but I assure you, theres ample flavor intertwined between those crisp, sweet peas and crispy pancetta. The peas are coated in a sweet and salty sherry-infused cream sauce and lots of caramelized shallots. Theyre the perfect way to make an easy side dish just a little bit more elevated than your average batch of buttered peas.
3 oz pancetta, from the deli counter and sliced 1/4-inch thick and chopped
1 large shallot, sliced
1/2 tsp kosher salt, divided
1 1/2 tsp sugar, divided
1/3 cup dry sherry
1/2 cup half and half
1 lb frozen baby peas, thawed
Add chopped pancetta to a large saute pan or skillet. Render the fat from the panetta over a medium heat. Stir with a wooden spoon. Cook until the pancetta is brown and crisp. Use a slotted spoon to remove the pancetta from the pan. Drain on paper towels. Reserve rendered fat.

Add the sliced shallot to the rendered fat. Reduce the heat to medium-low. Toss the shallots in the fat. Add 1/4 teaspoon salt and 1/2 teaspoon sugar. Continue to cook the shallots until they're soft and caramelized, about 7-8 minutes.

Turn the heat up to medium and add sherry to the shallots. Simmer until reduce by half, about 1-2 minutes. Add half and half, remaining salt, sugar and peas. Bring to a boil and reduce to a simmer. Simmer until the half and half is slightly thickened, and peas are hot, about 4-5 minutes Add pancetta back to the peas, stir. Season to taste with salt and pepper.
The post Creamy Peas and Pancetta appeared first on Cooking for Keeps.