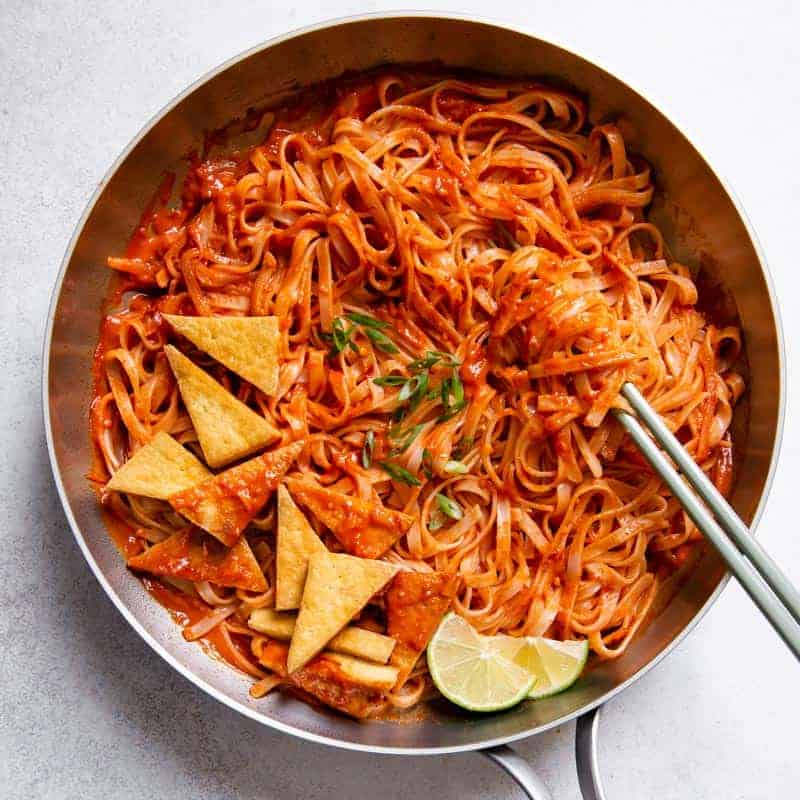 This spicy noodles recipe is made with rice noodles tossed in a silky sauce of tomatoes, sambal oelek, and coconut milk. With every bite, you'll get spicy and tangy flavors and a hint of sweetness. For a complete meal, serve the spicy noodles with pan-fried tofu!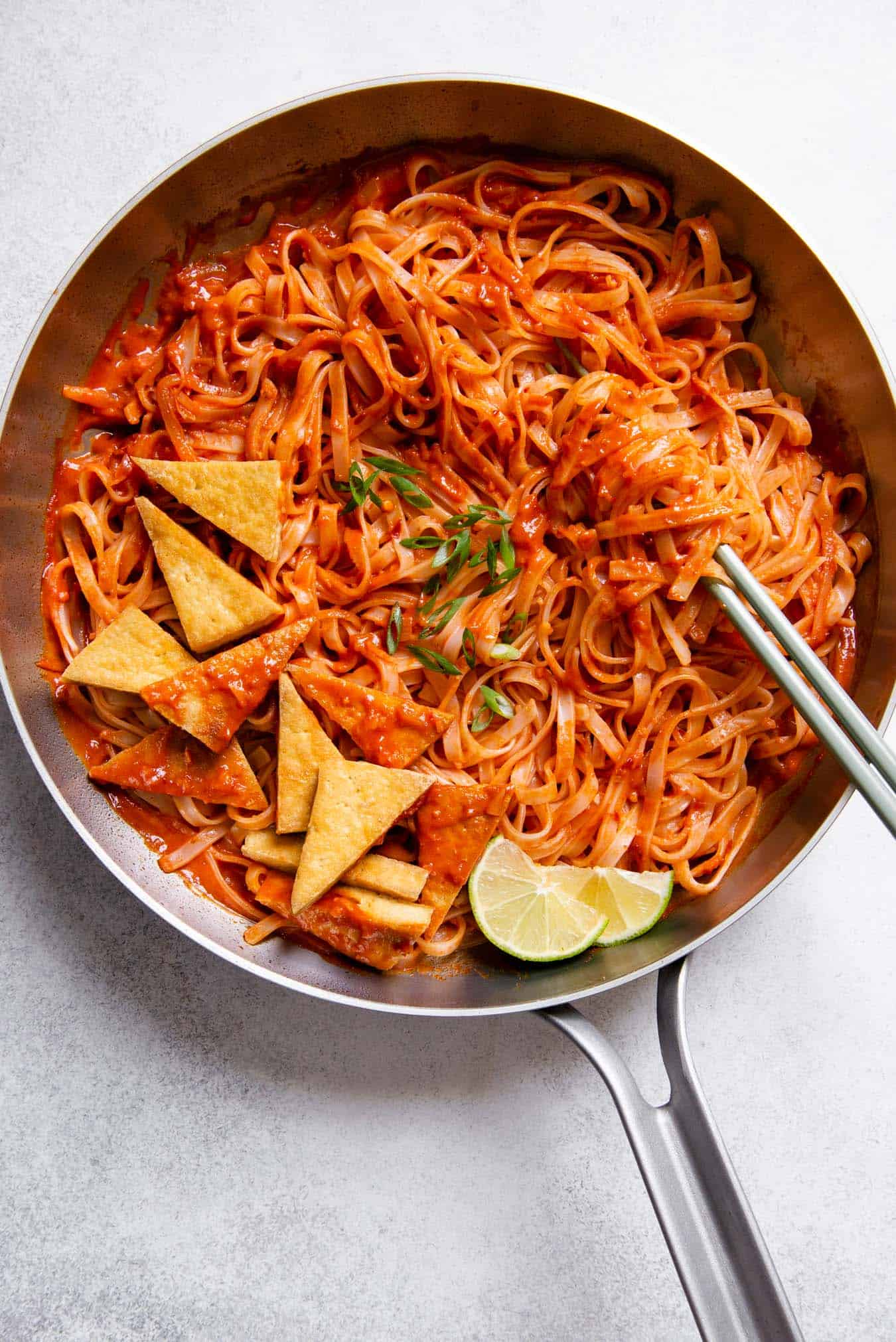 I was making a batch of my sambal potatoes the other day, and I couldn't get enough the sauce. The sauce is spicy, sweet, and tangy–a combination of crushed tomatoes, sambal oelek, and coconut milk. Naturally, I wondered if the sauce would work well with other recipes. After doing several rounds of testing, I landed on this spicy noodles recipe.
I kept most of the key ingredients the same, but I also made a few tweaks. To make the sauce silkier for tossing with noodles, I used tomato sauce as the base instead of crushed tomatoes. However, you can use crushed tomatoes for the recipe. It's just that the sauce will be a little thicker. 
INGREDIENT FOCUS: SAMBAL OELEK
One of the key ingredients in this sauce is sambal oelek, which is native to Indonesia and commonly used in South Asian cuisine. Sambal means a hot sauce or paste made from chili peppers. Oelek means "to grind". Put together, sambal oelek refers to a chili paste that is made from grinding chili peppers together, usually with a pestle and mortar.
In general, I can find sambal oelek in grocery stores throughout Sacramento. Alternatively, they are available online on Amazon. I tried this recipe with chili garlic sauce, which works as well. The only difference I noticed was that the chili garlic sauce seemed spicier, so you may want to use less.
HOW TO SLICE TOFU TRIANGLES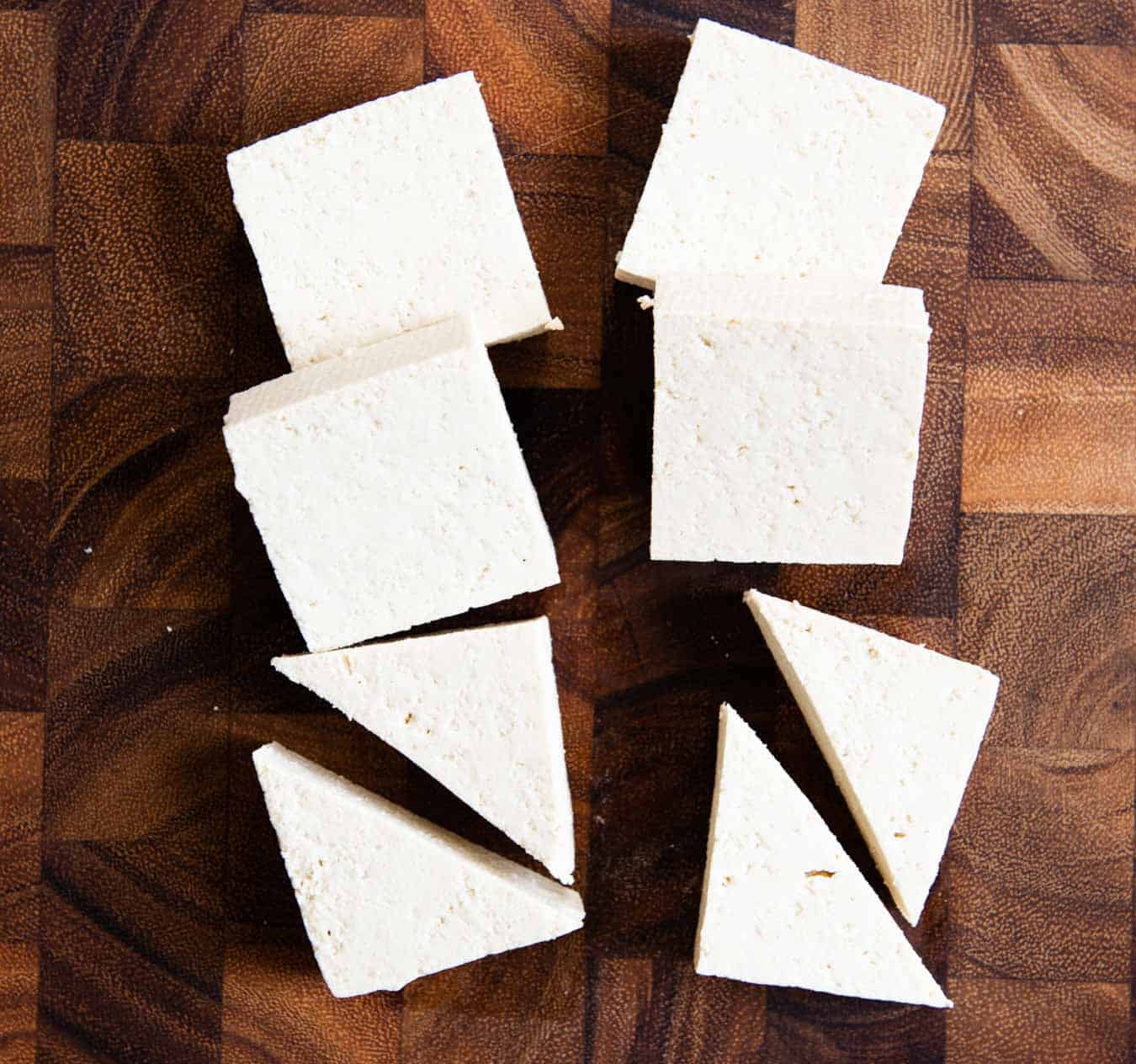 For the tofu, I like slicing them into triangles for presentation. To do so, I take a block of tofu, and slice it into 1/2-inch slices. Then, I take each slice and cut them in half to get 2 smaller rectangles. Finally, I take each rectangle and slice them diagonally to get small tofu triangles.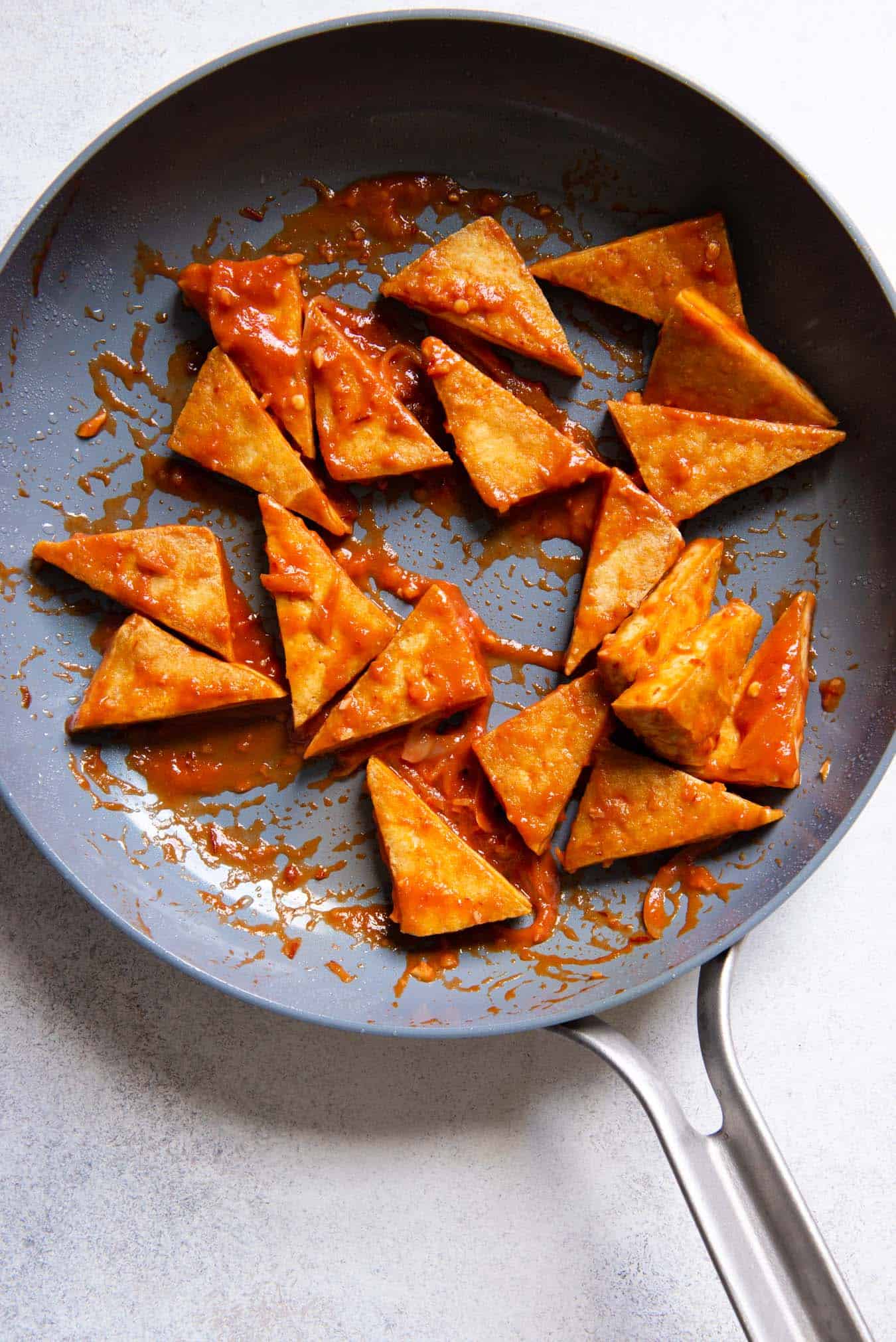 LOOKING FOR MORE NOODLE RECIPES?
Print
30-Minute Vegan Spicy Noodles with Pan-Fried Tofu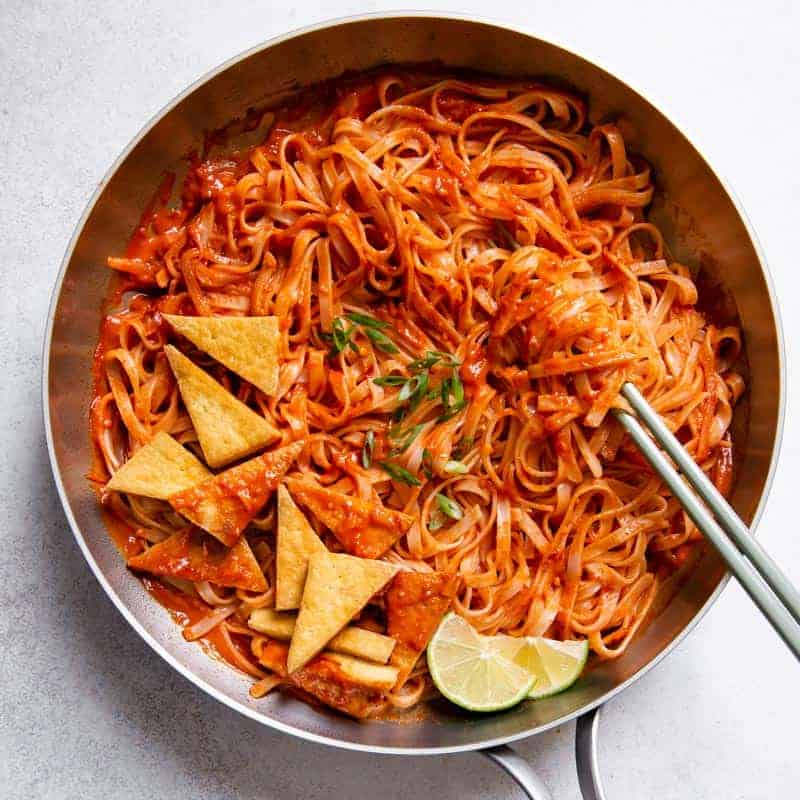 The amount of sambal oelek you want to use depends on your desired level of spice. Personally, I prefer using 4 tablespoons because the noodles will be spicy but not overpowering with spice. However, 2 or 3 tablespoons may be enough for others. You can also substitute the brown sugar with other types of sweeteners, such as coconut sugar, maple syrup or honey (if you're not vegan).
Author:

Lisa Lin

Prep Time:

10 minutes

Cook Time:

20 minutes

Total Time:

30 minutes

Yield:

Serves 4
Ingredients
Tofu
16 ounce

s super firm tofu (see note 1)

2 tablespoon

s safflower oil (see note 2)

1 teaspoon

kosher salt
Sambal Noodles
10 ounce

s rice noodles

2 tablespoon

s safflower oil

1/2 cup

thinly sliced shallots

1 tablespoon

minced garlic

1/2 tablespoon

minced ginger

1 cup

tomato sauce

3

to

4

tablespoons sambal oelek

1 tablespoon

light brown sugar

1 teaspoon

kosher salt

1/2 teaspoon

ground coriander (optional)

1/4 cup

canned coconut milk

sliced scallions for garnish
Instructions
Pan Fry Tofu
Cut the tofu into 1/2-inch slices. Then, cut them in half to get 2 smaller rectangles. Finally, take each rectangle and slice them diagonally to get small tofu triangles.

Heat a large nonstick pan with 2 tablespoons of oil over medium-high heat. Add the tofu to the pan. If all the tofu doesn't fit inside the pan, fry the tofu in 2 batches.

Pan fry the tofu for 3 to 4 minutes, until the bottoms are golden brown. Then, flip over the tofu and pan fry the other side for another 3 minutes.

Turn off the heat and leave the tofu in the pan and set aside. 
Cook Noodles
In a large saucepan, bring 2 quarts of water to boil. Add the rice noodles and cook them according to the package directions (I cooked mine for 5 to 6 minutes). Stir the noodles frequently to keep them from sticking together. This is particularly important when you first add the noodles to the saucepan. 

Once the noodles are cooked, drain the noodles and rinse them under cold water (see note 3).
Cook Sauce & Noodles
Heat 2 tablespoons of oil in a large skillet over medium heat. Add the shallots and cook them for about 3 minutes, until they soften. Next, add the minced garlic and ginger, and cook them for 30 seconds to 1 minute, until fragrant.

Add the tomato sauce, sambal oelek, brown sugar, salt, and coriander (if using) to the skillet. Stir to combine. Cover the skillet with the lid, and let the sauce cook for several minutes, until bubbly.

Reduce the heat to medium-low, and let the sauce simmer for about 5 minutes.

Uncover the skillet, add the coconut milk, and stir to combine.

Scoop out 1/3 cup of the sauce and toss it with the tofu.

Add the rice noodles to the remaining sauce and toss to coat the noodles with the sauce. Turn off the heat.

Serve the noodles with the tofu. Garnish with sliced scallions, if desired. 
Notes
You can also use extra-firm tofu for this recipe. Drain the block of tofu, wrap it in a layer of paper towels, and press it under a stack of plates for 15 to 20 minutes.

You can use any neutral-flavored oil in this recipe, such as canola oil, vegetable oil, etc.

If you are cooking these noodles before you even start pan-frying the tofu, toss the cooked and rinsed noodles with 1 1/2 teaspoons of oil. This will prevent the noodles from getting gummy and sticking together.
The post 30-Minute Vegan Spicy Noodles with Pan-Fried Tofu appeared first on Healthy Nibbles.